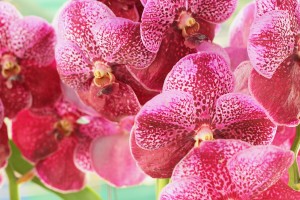 Since vanda orchids are naturally found in warm humid areas such as the Philippines, Malaysia, and islands near the South Pacific, it's absolutely crucial to mimic its natural habitat in order to encourage maximum growth and cultivate a vanda that blooms profusely and brightly as it normally should.
Vanda Orchid Culture
Like most orchids, the vanda is used to warm humid temperatures and needs to have their natural habitat mimicked in order for optimal growth. Unfortunately, due to the vanda's specific needs, many owners find that they are unable to meet the requirements within a house which is why they are more often than not found within greenhouses.
It is possible for a vanda, like many other orchids, to be grown indoors as a houseplant; however it's something that the plant will likely need to be conditioned to over time. If it's grown indoors, during the summer months it's recommended that the vanda be placed outside provided you live in an area that regularly experiences hot summer temperatures.
Temperature and Humidity
Vanda orchids need high temperatures both in the summer and the winter. A great temperature range to aim for is around 60°F-98°F with 60°F being the absolute lowest. If you experience seasonal cold and hot weather, make sure that your vanda is kept away from frost and extremely low temperatures or else it will surely parish.
One thing to note is that if you've got the temperature at the lowest range during the winter, your vanda may go into a dormant phase which will allow for stunning blooms during the summer. Also, make sure that the day/night temperature variations are no greater than ten degrees, or you risk shocking your vanda, disrupting its growth, and potentially killing it.
As for the humidity, on top of being watered on almost daily basis, your vanda will need to have very high humidity ranges. The humidity needs to be offset with a constant airflow to ensure that the roots don't develop rot. It's the high humidity that often forces owners to keep their vandas in a greenhouse as opposed to inside a home.
Light Exposure
Vanda orchids grow fast and subsequently not only require lots of water, but lots of light too. Unfortunately you need to make sure that the light is bright, but not direct. Using a shade cloth will help protect it; however, if you start to notice that your vanda is lanky and soft without many blooms then you need to increase its light exposure.
Always make sure to avoid watering during the peak sunlight hours to prevent burning the leaves and roots. If your vanda is outside for the summer months, consider a roof to ensure that it's protected from the rain and intense sunlight.
Potting Vs Mounting
Due to the vanda's long trailing roots and extensive need for airflow amongst its base, it's often found that the best way to keep a vanda is by mounting it. That's not to say you cannot grow a vanda in a pot – it's simply that you may end up needing a massive pot when, in contrast, a mounted vanda would be easier to care for and far easier to maintain the proper water/airflow ratio at its root base.
One great mounting solution is to place the vanda within a basket without any substrate. This large open basket allows the vanda ample room to extend its roots and also ensures that there is sufficient airflow. The basket can then be hung up, or transported anywhere around the house or greenhouse.
Fertilization
Because vandas are such fast growers, you'll want to fertilize your plant frequently. Consistent fertilization will provide the vanda with the necessary nutrients it needs to produce the famous blooms that they are so coveted for. Use a water-diluted fertilizer weekly on your vanda during its growth periods. If your vanda is in a dormant phase, cut this down drastically to ensure that none of the roots are damaged.
If your vanda is in a pot as opposed to being mounted, you can still use a diluted liquid fertilizer once a week, but also consider the pellet fertilizers as they are have a controlled release and can allow for better fertilization.
Do you have a vanda? What are the best tricks or tips that you have for growing vandas? Leave a comment below and let us know.