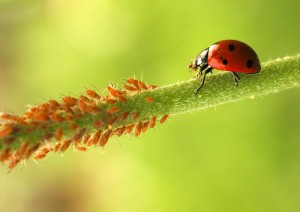 I was reading a post over at "The Good Thing – About Gardening" called "Keeping Bugs Out of Your Garden". It was discussing organic approaches to prevent pest problems instead of controlling them after the fact. My mind went to how this could apply to orchids of course.
Caring for orchids involves good maintenance of your orchids.  This means that you can't allow your garden to be an unsightly mess.  You wouldn't leave your living room or den in shambles, would you?  Then, why leave your garden in the same condition?
Leaving your garden unorderly and littered with scattered leaves, twigs, and weeds will indicate to the pests lying in wait that it's safe to come out.  They'll be saying, "Hey, the coast is clear!  The owner isn't keeping track of his/her garden. Dinnertime!"
To keep this scenario from happening, you simply need to keep your garden free of clutter and debris.  This will alert those nasty pests that you're on the up-and-up and keeping an eye out for those intruders – this will make them think twice about invading your garden.
Some of these invaders that you should keep an eye out for are the following:
Aphids
Mealybugs
Mites
Scales
Thrips
Another reason to keep those dead leaves out of your yard is that it will invite some of these invaders, especially the mealybugs, to come feast.
Additionally, getting some help to aid you in your battle against these bugs is always a good idea.  Here are a few suggestions for orchid growers:
Allowing ladybugs and spiders to inhabit your garden – your first thought is probably, "No, I don't want any bugs in my garden, as none of them are any good."  Guess what? Some bugs are actually GOOD for your orchid garden because they actually keep the bad pests away or eat the ones that venture too close to your garden.  Therefore, invite the ladybugs and spiders to your orchid garden for additional support.
Make sure to know the correct amount of water, temperature, humidity, fertility, and light that your specific orchids need.  Having the wrong amounts could invite the bad bugs to your garden.  Consult some orchid books to find the exact specifications that your orchids need for optimal growth and minimal bug infestations.
Make sure to control ants, which are naturally attracted to the fluid excreted by orchids.  Otherwise, the bad bugs will have an ally of their own in the ant, which protects aphids, soft scales, and mealybugs from natural enemies like spiders and ladybugs.
Therefore, being clean, being proactive, and being exact in the requirements that your orchids need are key to growing beautiful, healthy orchids AND keeping the nasty insects from entering your orchid garden and preying on them.
Please let me know what you think by posting a comment below — let me know what you do to keep the pests away. Thank you!
For more things to look out for with your orchids, here are 5 Warning Signs Your Orchids Are in Trouble.