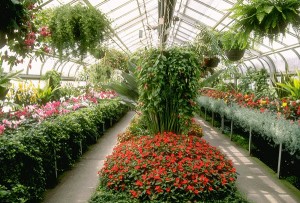 I was browsing the web the other day, looking what others had to say about a wealth of gardening and floral topics. One inspirational blog I stumbled upon was called Serenity in the Garden. It's the truly moving story called "Flowers Became His Cure" of how a man coped with his depression by planting colorful flowers in his garden.
This story reminded me of a time when I was low in my life. I wasn't clinically depressed, but I had recently had a downturn in luck, I guess. My mom came over one day to see how I was, and she brought something with her which would change my life. She brought me an orchid.
A phalaenopsis orchid, to be precise.
Although I had always been interested in gardening, in a humble way, I had always thought of orchids as exotic plants which needed specialist knowledge and orchid growers as people full of knowledge, which was denied to the rest of us.
How wrong I was.
The phalaenopsis orchid is one of the easiest to grow, and flowers up to three times a year, with flowers lasting for months.
I was a little nervous of my mom's thoughtful gift, and didn't want it to die overnight, so I went to the local bookstore to buy some orchid books.
Soon, I realized that caring for orchids was no different than caring for any other plants. I read about different orchid types, and found some helpful local orchid growers.
Having kept mom's gift not only alive but flourishing, I was now bold enough to branch out and buy some more orchid types. The local orchid growers shared their knowledge and experience with me, and I soon had a whole shelf of colorful orchids thriving in my conservatory.
Throwing myself into my new hobby helped me to forget my own troubles. Soon, my situation was no longer the only thing on my mind.
How have orchids changed your lives? I'd love to hear from you. Please leave a comment below.
For more information about the Phalaenopsis Orchid, here are 6 Reasons to Love Them.